Healing Talks With Kingdom Docs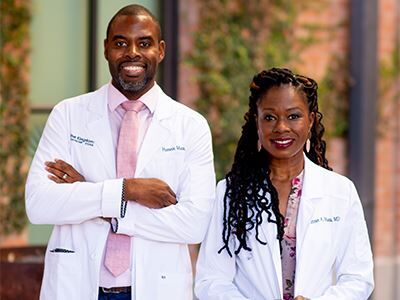 Our goal is to empower people with medical knowledge and biblical truths to help improve their health.
Show Links:
---
---

Hussein Musa, MD

Dr. Musa is Board-Certified in Anesthesiology, Pain Medicine & Addiction Medicine
Dr. Hussein Musa is from Chicago, IL. He attended the University of Illinois at Urbana- Champaign (UIUC). He became a Howard Hughes Research Fellow and graduated from UIUC with a B.S. in Molecular and Cellular Biology. Upon graduation, he entered the University of Chicago Pritzker School of Medicine.
At the University of Chicago, he researched the Innate Immune response to Hepatitis C Virus and has given several poster presentations on that subject matter. He graduated from the University of Chicago Pritzker School of Medicine in 2011.
Dr. Musa completed his residency in Anesthesiology at Columbia University Medical Center at New York Presbyterian Hospital and pursued a career in Pain medicine.
Dr. Musa completed fellowship training in Interventional Pain Medicine at the University of Texas Health Science Center in San Antonio. He has extensive training in performing procedures, including Epidural steroid injections, Radiofrequency ablation, Ultrasound-guided nerve blocks, Spinal Cord stimulator placement, and more.
He strongly desires to help patients suffering from chronic pain and addiction. He has worked in multiple opioid treatment centers in San Antonio.
Dr. Musa is the husband of an amazing wife and the father of three rambunctious boys. He founded The Kingdom Healthcare System, a nonprofit organization that provides affordable healthcare to those in need.

Adetoun Abisogun Musa MD
Dr. Adetoun Abisogun Musa is a double board-certified Neurologist and Epileptologist. She is passionate about teaching and holds an adjunct faculty position at a local medical school. Dr. Musa is also active in the advancement of medicine through research. She is the wife of her husband and the mother of three boys. She is a diligent worker and has applied an excellent spirit to her work as a physician. She is a believer in the power of prayer, faith, and healing in the practice of medicine. Dr. Adetoun Musa's has specialized training and extensive experience in the diagnosis and treatment of epilepsy with a special interest in dietary therapy and integrative medicine. She is the co-owner of the Kingdom Healing Institute.
She obtained her Bacheler's of Arts in Neuroscience and Doctor of Medicine from the University of Virginia. She then went on to complete her internship in Internal Medicine at Rush University in 2010 and then complete her Neurology Residency at Yale in 2013. She then completed subspecialty training in Epilepsy/Clinical Neurophysiology at Hofstra School of Medicine/Northwell and has extensive training and experience in routine and continuous video-electroencephalography interpretation. She currently has more than 14 years of education and 14 years of experience in clinical practice and academic medicine. She serves as an Adjunct Assistant Professor of Neurology at the University of Texas Health Science Center San Antonio.
She also co-founded the Kingdom Healthcare System, a nonprofit organization that provides free and affordable healthcare. The Kingdom Healing Institute supports the mission of The Kingdom Healthcare System.