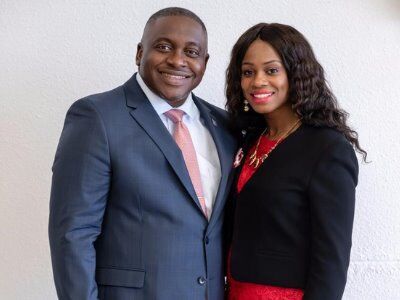 Bethel Covenant Assembly of God, San Antonio was founded by Pastors John & Chidinma Aniemeke under the inspiration and guidance of the Holy Spirit. On December 22nd 2011, they received an order from the Almighty God by revelation to start a new ministry; an Assembly of God Church in San Antonio, Texas. After much prayers and counsel with various men of God in the leadership of AG USA and Nigeria respectively, a prayer group was started immediately. On March 21st 2012, Bethel Covenant Assembly of God was formally registered as a non-profit incorporation entity with the State of Texas as a religious (church) organization. B.C.A.G. was officially inaugurated on January 5TH 2013 By Rev Scott Ennis, the General Council AG Missionary to Nigeria & Gambia. The Church was officially set in order as an affiliate Church in the South Texas District Council by the District Superintendent of the AG South Texas District; Rev Tim Barker on March 23rd 2013. BCAG San Antonio was officially recognized as an affiliate Church of the General Council of Assemblies of God USA on April 22nd, 2013. The Church prayer group started with 9 foundation members with the first Sunday Church service being held at the Drury Inn & Suites San Antonio.
Today, to the Glory of the Almighty God, B.C.A.G. has grown to a body of over 500 members who worship God in Spirit and in Truth every week. B.C.A.G. is a spirit filled assembly blessed with a rich diversity of members from all races and cultures who are seeking after God's presence in all facets of life. The Church has a clear mandate of bringing an unquenchable Revival to the City of San Antonio.
Show Links:
Sponsored By:
---
---
Reverend Dr. John Aniemeke serves as the senior pastor of Bethel Covenant Assembly Of God (BCAG) in San Antonio, Texas. Born into a Clergy home, He is the fifth amongst 6 children of Rev Christian Aniemeke (deceased) and Pastor Roseline, a General Council National Director in the Assemblies of God Church, Nigeria.
John gave his life to the Lord Jesus Christ(born-again) at the age of 6 and has been active in Christian ministry since he was 8 years old. He was baptized in the Holy Spirit with the evidence of speaking in tongues at the age of 13 and preached his first sermon at age 14. By the grace of God, he has continued to maintain his burning passion for the Lord and continues to actively serve in the house of the Lord. He has served in various ministry leadership capacities such as; Royal Ranger, Music Pastor, Sunday School Teacher, University Campus Ministry Pastor and later Assistant Pastor.
In 2011, while finishing his surgical residency at the University of Texas Health Sciences Center San Antonio Dental School, Dr. John was called by God into the Pastoral Ministry along with his wife, Chidinma Aniemeke. They were led by the Lord through the help of the Holy Spirit to pioneer a multicultural ministry in San Antonio for believers seeking to experience the undiluted presence of God.
In 2013, Dr. Aniemeke and his wife were both commissioned as Pastors and began BCAG with nine foundation members. Under his servant leadership the ministry has grown exponentially to over 500 members from 25 different nations. In June of 2017, he was ordained as a Reverend by the General Council of the Assemblies of God Church USA. In addition to his Lead Pastoral duties, he maintains a private surgical practice as a Board Certified Periodontist. He has a fresh mandate to bring end time revival to the body of Christ and advance the gospel of Jesus Christ globally!
Reverend John Aniemeke, and his wife, Chidinma are happily married and are blessed with 3 lovely children; Miriam, Timothy & Emmanuel.