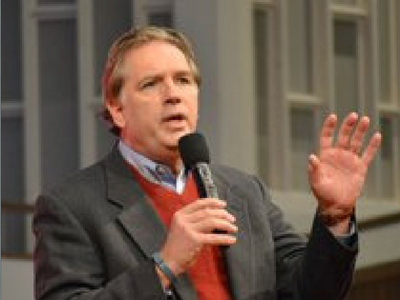 ---
Leslie Hollon is a pastor, preacher, professor, and author. Dr. Wayne Oates called him "a reconciliation artist." Dr. Bill Leonard describes Les as "a sensitive pastor, caring minister and excellent preacher." Dr. Calvin Miller said of Les, "If one were to consult the Oxford Dictionary of English for the definition of 'pastor,' they would see a picture of Les Hollon."
Leslie serves as Senior Pastor of Trinity Baptist Church in San Antonio, Texas. This growing regional congregation is noted for the impact of its local and global ministries. Leslie is often interviewed by local media and is a frequent speaker for community, regional, and international events.
Previously he was pastor of St. Matthews Baptist Church in Louisville, Kentucky where he was recognized for his outstanding work in the city. He also served for nine years as pastor and professor in Kansas City, Missouri. Before leaving Kansas City he received the distinguished award from Baptist Medical Center for his devoted service to the community. While a seminary student he served as full time pastor of the Finchville Baptist Church, and was a statewide leader in Kentucky.
Leslie writes in the areas of Christian faith & practice; has contributed to nine books plus several periodicals. Among his most recent releases was Christian Reconciliation Ministries: Healing Hurts and Building Hope. His global travels have taken him to Asia, Europe, Africa, South & North America. His teaching engagements vary from the villages of Ghana to the annual assembly of the International Baptist Convention in Switzerland. Among his various responsibilities are the Chairman for Reconciliation Networks of Our World, leadership with the Baptist World Alliance, a Board Member for San Antonio's United Way, and professor in Hardin Simmons University's Doctor of Ministry program.
Leslie grew up in the Texas Hill Country of Boerne, where for half a century his Dad practiced law and his Mother was a community leader. When 15 he began preaching and as a high school senior he won the Texas State Championship in persuasive speaking. The Columbus Avenue Baptist Church of Waco, Texas licensed him to ministry and he was ordained by the First Baptist Church of Knoxville, Tennessee.
A graduate of Baylor University, he was selected as the Outstanding Senior Man for Leadership & Service. Leslie holds the Master of Divinity, the Master of Theology, and the Doctor of Philosophy from Southern Seminary of Louisville, Kentucky. He completed special studies at Trinity University, Vanderbilt Divinity School and Fuller Theological Seminary; received various honorary degrees and earned certifications, including his being inducted into the Board of Preachers at the Martin Luther King Jr., Hall of Fame for Preachers at the International Chapel of Morehouse College. He is scheduled to be the feature speaker for the Ghana Baptist Convention's 50th anniversary, which will be this July 16-20 in Accra.
Leslie is an avid hiker, traveler, and cinema buff. His wife, Dr. Vicki Hollon, served for 15 years as the Executive Director for the Wayne Oates Institute and as a professor for Drew University. Since 2010 she has served as Pastor to Older Adults in Trinity. They are the parents of three adult children: Rachel (actress/producer/writer, based in San Antonio); Ryan (Co Executive Director of Youth Safety & Violence Prevention for the Greater Chicago Y.M.C.A.) and their daughter in law, Michelle; Steven who is a business man in San Francisco.