A Thankful Friday - Thanksgiving Devotional - Nov. 24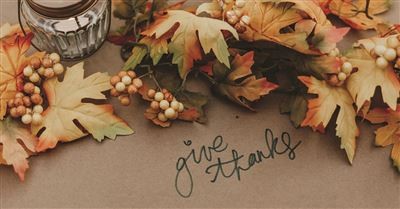 Crosswalk.com

A Thankful Friday
by Ryan Duncan
"How great is your goodness, which you have stored up for those who fear you, which you bestow in the sight of men on those who take refuge in you." – Psalms 31:19
I've always really enjoyed Thanksgiving. Sure, the family can be pretty crazy at times, and I usually end up on dish duty after the meal, but Thanksgiving has always been a time for me to stop and realize how blessed I am. Friends, family, a warm meal, there are many simple things in this life that are easy to take for granted, so it's good to have a day that reminds us to be thankful for all God has given us. The problem is that's usually how long it lasts, a day. After the food has been eaten and prayers have been said, many people wake up the next morning and jump head first into the madness of Black Friday.
I can only remember shopping twice on Black Friday, and I regretted it both times. It's complete chaos, with people running, screaming, and sometimes even fighting each other over things they want to buy. I've never had any crazy experiences myself, but my brother-in-law remembers a particularly strange incident that happened while he was in college. One year, while he and my sister were still dating, he drove up to visit her on the Friday after Thanksgiving. He had left his house at 3am with hopes of avoiding the holiday rush and was making good time on the freeway when suddenly, out of nowhere, a long line of traffic appeared in the distance.
At first he thought there had been an accident, but as he got closer he realized that the stalled traffic was due to cars making complete stops on the freeway so their passengers could get out, jump the guard rails, and climb a small hill to a nearby outlet mall. It's ironic, and a little sad, that a day which celebrates American greed happens after the holiday about being thankful. At times like these, it's important that as Christians realize we cannot live Christ-centered lives when we leapfrog between God and possessions.
"No one can serve two masters. Either he will hate the one and love the other, or he will be devoted to the one and despise the other. You cannot serve both God and Money." (Matthew 6:24)
So don't throw out your thankfulness with the evening leftovers, but hold onto it as the Advent season begins. Remember the blessings Christ has given us and use them to prepare yourself for Christmas, when we celebrate the birth of Christ, the greatest gift of all.
Intersecting Faith and Life: Don't let the crazy shopping season distract you from what's really important.
Further Reading
Check out fantastic resources on Faith, Family, and Fun at Crosswalk.com!