Destination Spotlight - Montreal, QC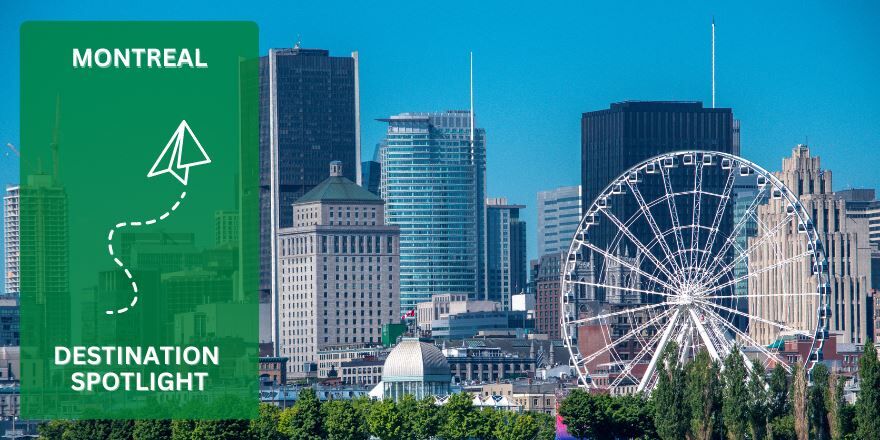 Montreal is a culturally rich, vibrant Canadian city in the province of Quebec. It's hip, cosmopolitan, and welcoming to visitors (the respectful ones, that is). It certainly is a four-season destination and very easy to get to from the United States. You may want to plan ahead if you are considering attending one of their world-famous annual festivals such as the Montreal Jazz Festival or Just for Laughs. The legal drinking age in Montreal is 18 and the food scene is one of the most diverse and rated one of the top food scenes in the world. From the Northeast, I would consider a journey to Montreal via train in the Summer.
Fast Facts
Destination: Montreal
Province: Quebec
Country: Canada
Primary Language: English, French
Timezone: Eastern
Currency: Canadian Dollar
Nearby Tourist Areas:
Quebec City
Hotel de' Glace (Ice Hotel)
​​Passport: Yes, Americans need a valid passport to enter Canada by air.
Visa: American citizens do not need a visa if traveling for vacation.
TRAVELING ABROAD
I love traveling abroad as much as I love traveling within my home country of the United States. However, I want you to be safe and be an excellent representative of your home country. Even in places that are very friendly to visitors, remember that you are in a foreign country and understanding local customs is critical. So, here are a few tips as you prepare for your adventure.
Before you depart from your home country, call The US Embassy (or your home country embassy) and tell them you are leaving your home country. That way they are aware of your whereabouts in case of emergency.

Carry only the credit cards you are using to charge expenses. Call those credit card companies before you leave. Do not travel with your debit cards.

Clean out your wallet or purse and carry only what you need.

Solve your mobile phone situation before you depart. Usually a phone call to your provider will get you started.

Keep all medications with you in your carry-on.

Leave a photocopy of all your travel documents (passport, itinerary, copy of your credit cards) with a friend or at your home.

Do not travel with expensive jewelry.

Make sure you travel with a valid passport or visa (if required). Also, bring another valid form of photo I.D., and photocopies of both I.D.s. in case of loss or theft.

Read up on local laws and practices before you get here.

Be a respective guest of the local customs and obey the local laws.

If English is not the primary language, then familiarize yourself with key phrases and make attempts in the country's primary language. Locals usually appreciate the effort.

Keep luggage, handbags or backpacks in view at all times.

Keep possessions close to your body.

Don't take around large amounts of cash.

Avoid wearing expensive jewelry on road trips or excursions.
For US citizens, visit the US State Department's website (for American citizens) before you travel abroad.

Families
Young children? I'm torn here. My children are (as of today) 13 and 10 and I still might wait another three years so they appreciate the art, the culture and the history more than they would today. They would love the observation wheel and perhaps the scavenger hunt but in the end, I'd ship them off to Aunt Sarah's house and enjoy Montreal to myself.

Peak Season
Peak season in Montreal is Summer. Shoulder Season is Spring and Fall and Low Season is Winter.

Duration
Depending on your activity level, I suggest an extended weekend on your first visit.

Transportation
By Air
Montreal's Pierre Elliott Trudeau Airport (YUL) is approximately 15 miles west of the city center via Expressway (Autoroute) 20. Travel time to the airport from the city center can be as much as an hour, depending on traffic.
Generally speaking, it is pretty easy to get in and out of Montreal by air from major hubs in the US and Mexico.
Car
I would not advise renting a car in Montreal unless you speak and/or can read French road signs and navigate a crowded downtown.

Visitor Guide
Montreal has an official tourism office. Their services and suggestions are free to you. They also have a free digital visitors guide. We have partnered with them to ensure editorial accuracy. Please download their free guide by clicking here (or the link below) and enjoy your next vacation to Montreal.
Download the free visitor guide here: FREE Visitor Guide
Thanks for your consideration, now get out there and explore and I'll see you in line at security.