The Power of Prayer in the Life of a Child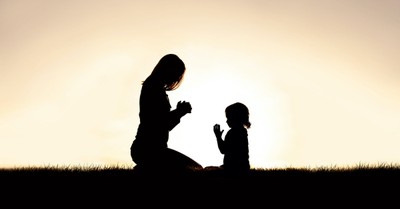 By Sharon Jaynes, Crosswalk.com
I grew up in eastern North Carolina in a nice neighborhood and a nice house. But much of what went on behind the door of our ranch-style house was anything but nice. My father didn't drink every day, but when he did, he got drunk and grew violent. My parents fought both verbally and physically in front of my brother and me, and we lived much of our lives in fear. I saw many things a little girl should never see and heard words a little girl should never hear. I didn't know what some of the words meant, but I know how they made me feel.
On many nights, I went to bed, pulled up the covers around my quivering chin, and prayed I would quickly fall asleep to escape the yelling in the next room. On my dresser, I had a musical jewelry box with a ballerina that popped up when the lid opened. Many nights, I tiptoed over to the jewelry box, turned the wind-up key in the back, and opened the lid in hopes the tinkling music would drown out the fighting in the next room. I felt that I was always in the way, a poor excuse for a daughter and a burden to be tolerated rather than a child to be loved. I concluded I wasn't smart enough, pretty enough, or good enough—just not enough, period. Insecurity, inadequacy, and inferiority dogged me, shouting accusations and heaping condemnation on my little-girl soul.
That's where our family story began, but God didn't leave us in that sorry state. When I was twelve years old, my best friend was Wanda Henderson. We'd snuggle down in thick comforters when I spent the night at her house and tell little girl secrets. Those secrets eventually made it around to me telling her what was going on at my house. And later, she coaxed me to tell her mom. Mrs. Henderson took me under her wing. She told me about Jesus who loved me, and a heavenly Father who adored me. She not only explained the gospel to me, she lived it for me to see. But most importantly, she prayed for me and my family.
For two years, Mrs. Henderson mentored me without even knowing it. She was just going about life being her joyful Jesus-loving self, but I watched her every move. She sang praise songs when she did her housework, called her gregarious husband pet names, and talked to and about Jesus as if he were her best friend. One night, when I was fourteen, she sat me down on the den sofa, took my hands in hers, and asked, "Sharon, would you like to ask Jesus to be your Lord and Savior? Would you like to become a Christian?"
I said yes. Mrs. Henderson prayed. I cried. We all rejoiced. Jesus did change my life. However, the next day, I had to go back home. Tension still ran high, and nothing much changed, except we began praying for my messed-up family. Three years later, through the influence of this same woman, my mom gave her life to Christ. Three years after my mom, my mean ole dad gave his life to Jesus and became one of the sweetest men I've ever known.
How did that happen? It started with the prayers of one mamma who loved and prayed for a child that wasn't even hers. The Bible says, "The prayer of a righteous person is powerful and effective" (James 5:16). And if you know Jesus as Savior, then that person is you.
When I became a mom, I wanted to follow the example of that praying mamma who prayed for my child and his friends. But often I didn't really know what to pray, and my mind wandered when I tried. Like Jesus' disciples, I cried, "Lord, teach me how to pray." Just as Jesus gave his followers a pattern of prayer, I decided on a pattern of prayer for my child—starting at the top of his head with the mind and the thoughts he thinks, all the way down to his feet and the path he takes. Sixteen areas covered every aspect of his life. For example, in the first seven areas, I prayed for his:
An inexplicable bond exists between a mother and her child. While the new life is being knitted together in a mother's womb, her very blood is pumped from her heart to her child's. And even though the umbilical cord is cut in the delivery room, an invisible, indelible cord of love holds them together for the rest of their lives. As Elizabeth Stone once said it well, "To make a decision to have a child is momentous. It is to decide to have your heart go walking around outside of your body forever."
God has given moms the privilege and parental responsibility to shape and to mold not just another human being but an eternal soul for a very short, very fleeting period of time. And not just her own child but others as well. While our roles and responsibilities change throughout the stages from childhood through adulthood, one constant remains…prayer. And though hopefully our children will outlive us, they will never outlive our prayers that are etched in the heart of God.
Through prayer, the enemy's plans are intercepted; the principalities and authorities are defeated; the power and provision of God flow into the lives of His people. It's the conduit through which God's power is released, and His will is brought to earth as it is in heaven. Prayer is simply opening the storehouse of heaven for the lavish blessings He wants to give. And friend, He's inviting you to stand in the gap for those you love. When you do, miracles will follow.
Order the book today and receive three FREE pre-order bonus gifts!
Photo credit: ©GettyImages/ChristinLola
Sharon Jaynes is the author of 26 books including her latest release: Praying for Your Child from Head to Toe: A 30 Day Guide to Powerful and Effective Scripture-Based Prayers—covering sixteen areas of a child's life from the head (what they think about) to the hands (their gifts and talents) to the feet (the path they walk). One of the places children are influenced for good or bad is at school. Click here to receive Sharon's powerful FREE download, Praying Scripture Over Your Child's and Grandchild's Teacher from Head to Toe.
Parents: Need Help Navigating Our Crazy Culture with Your Kids? Listen to Our FREE Parenting Podcast!
Christian Parent/Crazy World with Catherine Segars is available wherever you listen to podcasts. Listen to our episode on battling for your kids in prayer by clicking the play button below:
The views and opinions expressed in this podcast are those of the speakers and do not necessarily reflect the views or positions of Salem Web Network and Salem Media Group.
Related video:
Are you in the trenches with your toddlers or teens? Read Rhonda's full article here!